Pamela Anderson is a woman scorned! And she's taking her fury to Instagram!
The Baywatch star took to social media to air her dirty laundry in the wee hours of Tuesday morning.
According to Pam, she's broken up with her boyfriend of over two years, soccer star Adil Rami — because she found out what he's been up to!
Her post, which features a bittersweet photo of the two, begins ominously:
"It's hard to accept 💔"
Uh oh. We don't like the look of that broken heart.
But it gets worse than just some conscious uncoupling statement. Pam GOES OFF, writing:
"The last (more than) 2 years of my life have been a big lie. I was scammed, led to believe … we were in « big love »?"
We hope that doesn't mean he had two other wives…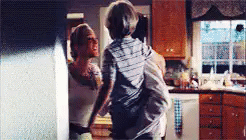 Anyway, let's get to what Pam is really accusing her man of. Because it's pretty serious.
She continues:
"I'm devastated to find out in the last few days. That he was living a double life."
Oh no!
"He used to joke about other players who had girlfriends down the street in apartments close to their wives. He called those men monsters. ?"
But he was apparently just posturing. Because what he did, well…
Pam writes:
"But this is worse. He lied to all. How is it possible to control 2 women's hearts and minds like this – I'm sure there were others.

He is the monster."
Oh man. She is straight up accusing him of living a DOUBLE LIFE!
He wasn't just cheating on her with another woman! She says he was cheating on the other woman with her!
So basically that means he was using the act of visiting his kids as a front for being a two-timing dog??
Gross. She continues:
"But they were .. I feel worse for her, for them.
His family even lies for him.
I feel used.
Betrayed and hurt.
But I should've known better."
She reveals more of his behavior, writing:
"The jealousy.
The physical and emotional torture.
It was all a mirror of his own actions.
I did try to leave 10 times.
Every time he chased me to say he'd die without me.
He'd go to therapy.
He wouldn't hurt me again.
He wanted us to live in Malibu one day.
I even emailed my friend who owns LA team for him for next year. Like he asked me to."
Good thing that didn't work out…
"I introduced him to my good friends –
He trained in Malibu with people I admire and trust.
I was happy to see him there.
He seemed happy around dedicated honest people.
Another world.
Well we are all in shock.
He has disappointed us all.
My family.
My sons.
My friends."
Nope, not the end! Pam is still PISSED about a great many things in retrospect!
"He asks me to post photos of him on my Instagram?
He begged me to do while he was in NY with his guy friends on holiday.
While I waited in our house in Marseille.
We were to meet in Paris yesterday – we rented a house in Cassis so we could enjoy the beach with my dog and he'd train and prepare for new season @olympicdemarseille"
Something tells us she may have even more to get off her chest.
So with all that digested…
Adil responded a few hours later by posting a very similar photo of the two of the (former) couple.
He wrote (translated from French):
"A break is never easy. As often in these situations, emotion can take over and let excessive things express itself."
Damn, how do you say "gaslighting" en français??
"Pamela is a whole person, whom I deeply respect, who has convictions, who is sincere in her struggles, and for whom my love has always been sincere. That's what I want to remember."
Well, unfortunately she won't be able to remember that — since you took a crap on all of it by being with another woman!
Does Adil even deny the accusation? Well, kind of. It seems more like he's taking umbrage at the verbiage…
"I do not think we should reveal our intimacy, our history, which only looks at us. On this point, however, I want to shed light. In no case do I lead a double life, I am simply attached to preserve a lasting relationship with my children and their mother Sidonie for whom I have a deep respect."
Does that deep respect involve having sex with both parties and not telling anyone? Because THAT is the accusation here.
He simply says:
"That's right I should have been more transparent in this ambiguous relationship."
We think that's almost an admission of guilt? Almost?
He concludes by defending his position with his domestic violence organization:
"I remain and will remain faithful to my values ​​and beliefs which are mine and express myself in my commitment for the association @solidaritefemmes, which is always so strong. I am proud to have participated in this great and beautiful campaign that has made known the exceptional work of this association and its members."
And finally…
"I wish the appeasement and the discretion for our families and friends, even if I am pained and hurt. I hope you understand and respect it."
What do YOU think of this she said, he said, she said a lot more and was more convincing?
Let us know in the comments (below)!
[Image via WENN/Adil Rami/Instagram.]
Original Article : HERE ; The Ultimate Survival Food: The Lost Ways